Rosetta: Earth's True Colours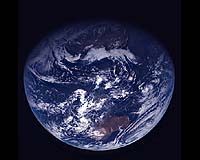 Earth's true colours. Credits: ESA 2005 MPS for OSIRIS Team MPS/UPD/LAM/IAA/RSSD/INTA/UPM/DASP/IDA
by Staff Writers

Paris, France (SPX) Nov 22, 2007

True colour images of Earth as seen by Rosetta's OSIRIS camera are now available. The pictures were taken on 13 November during the swing-by, and on 15 November, as Rosetta left on its way to the outer Solar System, after the swing-by.

After its closest approach to Earth, Rosetta looked back and took a number of images using the Optical, Spectroscopic, and Infrared Remote Imaging System (OSIRIS) Narrow Angle Camera (NAC). This particular image was acquired 15 November 2007 at 03:30 CET.

The image above is a colour composite of the NAC orange, green and blue filters.

At the bottom, the continent of Australia can be seen clearly.

During the swing-by, OSIRIS observed Earth's night-side.
Related Links
ESA's comet chaser: Rosetta
Earth Observation News - Suppiliers, Technology and Application

TRMM Turns Ten - Studying Precipitation From Space


Greenbelt MD (SPX) Nov 21, 2007

Earth: water planet. Oceans, rivers, aquifers, rain: these and many other features describe the hydrologic anatomy of Earth's thin, life-supporting layers of upper crust and lower atmosphere. How it works-that is, how water circulates, behaves, and interacts is much harder to determine.