Orbital's Launch Of Taurus Rocket Is Unsuccessful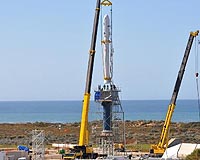 The Taurus XL rocket before launch.
by Staff Writers

Dulles VA (SPX) Feb 25, 2009

Orbital Sciences has announced that the launch of its Taurus XL rocket, which lifted off at 4:55 a.m. (EST) from Vandenberg Air Force Base, CA., carrying the company-built Orbiting Carbon Observatory satellite for NASA, did not achieve orbit.

Preliminary indications are that the payload fairing on the Taurus XL vehicle failed to separate. The fairing is a clamshell structure which encapsulates the satellite as it travels through the atmosphere.

Orbital will immediately convene an internal failure investigation board that will include representatives from the company and NASA to determine the cause of today's launch failure.

Orbital believes that it is likely that it gathered sufficient data during the flight that will enable the company to identify the cause of the failure.
Related Links
Orbital Sciences
Earth Observation News - Suppiliers, Technology and Application

Counting Carbon


Pasadena CA (SPX) Feb 24, 2009

Imagine if you could scoop exactly one million molecules out of the air in front of you (while being careful not to grab any water vapor). Now, start sorting these molecules into different piles. Start with the two most common molecules and you've sorted 99 percent of your sample - the nitrogen pile will have about 780,000 molecules, and oxygen pile will have about 210,000 molecules.