Science Module Structure Arrives At Astrium UK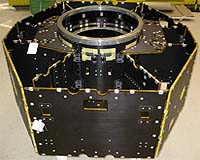 The extremely stable structure of the Science Module of LISA Pathfinder is entirely made of Carbon Fibre Reinforced Plastic (CFRP) sandwich panels and shells.
by Staff Writers

London UK (SPX) Jun 29, 2007

The Protoflight Model of the Science Module structure built by Oerlikon Space AG has been delivered to Astrium UK at the beginning of June 2007. The lightweight, high stiffness and highly thermally stable structure is made of Carbon Fibre Reinforced Plastic (CFRP) with the exception of the mating ring to the Propulsion Module which is made of aluminium alloy.

The structure will provide a stable mounting to LISA Pathfinder's gravitational sensor technology package, limiting deformations at the interface during flight to less than 1×10-8m Hz-1/2 in the instrument's measurement bandwidth between 1 and 30 mHz.

The structure was shipped from Oerlikon Space AG in Zurich by truck to Astrium UK in Stevenage, where it will be submitted to static load tests prior to the integration of flight equipment in the next coming months.
Related Links
Lisa Pathfinder
Space Technology News - Applications and Research

Conference To Focus On Space Technology


Fayetteville AK (SPX) Jun 28, 2007

Harnessing its influence as a national center of research in space technology, the University of Arkansas will host the Advanced Microelectronics and Photonics for Space Conference and Small Business Innovation Research Forum this week at the Arkansas Research and Technology Park. The conference and forum, organized by Space Photonics Inc., a local company closely associated with university researchers, will feature national experts on space electronics and photonics and will focus on the growth of small businesses that develop and produce space-based technology.