RADARSAT-2 Commissioned And Ready For Commercial Operation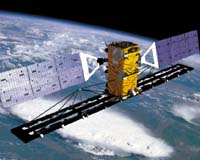 RADARSAT-2 is the result of a unique collaboration between MDA and the Canadian Space Agency.
by Staff Writers

Richmond, Canada (SPX) May 02, 2008

MacDonald, Dettwiler and Associates has announced that RADARSAT-2 completed its commissioning on April 25, 2008 and fully transitioned into commercial operations to deliver advanced radar images of the Earth. Launched from Baikonur Cosmodrome on December 14, 2007, RADARSAT-2 delivered its first sample high-resolution radar images on December 18, 2007.

MDA President and CEO Daniel Friedmann said, "We are extremely pleased to announce the completion of the RADARSAT-2 commissioning, and are excited by the excellent performance of this important new satellite and its extended suite of data products. This milestone, and the overall success of this project, is directly related to the talented workforce of MDA and our subcontractors, and the great cooperation between the Canadian Space Agency and MDA throughout the development and build phases."

RADARSAT-2 is the result of a unique collaboration between MDA and the Canadian Space Agency. The satellite provides the follow-on to the RADARSAT-1 mission, serving data users around the world with new imaging modes, data with higher information content, and more responsive programming and delivery services. It will directly supply the growing global market for commercial high-resolution radar imagery.
Related Links
MDA
Earth Observation News - Suppiliers, Technology and Application

Entekhabi Will Lead Science Team For NASA Satellite Mission To Map Earth's Water Cycle


Boston MA (SPX) May 01, 2008

MIT Professor Dara Entekhabi will lead the science team designing a NASA satellite mission to make global soil moisture and freeze/thaw measurements, data essential to the accuracy of weather forecasts and predictions of global carbon cycle and climate. NASA announced recently that the Soil Moisture Active-Passive mission (SMAP) is scheduled to launch December 2012.