NASA Views Southern California Fires And Winds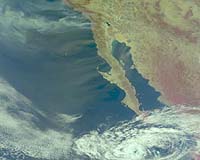 Smoke from multiple wildfires burning in Southern California, together with dust in Southern California, Baja California and mainland Mexico, swirl out into the Pacific and Gulf of California, respectively, in this false-color visible image from the Atmospheric Infrared Sounder on NASA's Aqua satellite, acquired at about 7 p.m. Eastern Time on October 22. Strong Santa Ana winds are fanning the wildfires, among the most destructive in recent memory. Image Credit: NASA/JPL
by Staff Writers

Moffett Field CA (SPX) Oct 24, 2007

With a click of the mouse button, the public can see NASA views from space, including some at Google Earth, of Southern California's raging wildfires and the ferocious Santa Ana winds that are driving them.

Images taken by the Moderate Resolution Imaging Spectroradiometer (Modis) on NASA's Terra and Aqua satellites are processed daily and made available by the JPL OnEarth Web Map Server, and at Google Earth. This effort is part of an ongoing collaboration with JPL, Google Earth, and NASA Ames Research Center, Moffett Field, Calif., to make remote satellite imagery available to the public and decision makers. Latest Modis fire images at onearth.jpl.nasa.gov/socalfires

NASA Goddard Space Flight Center in Greenbelt, Md., manages Aqua and Terra. Images from the NASA/JPL QuikScat satellite and Airs instrument on the Aqua satellite show the winds' powerful path.
Related Links
Earth Observation News - Suppiliers, Technology and Application

A Roadmap For Calibration And Validation


Geneva, Switzerland (SPX) Oct 23, 2007

The volume of data acquired by more than 50 Earth Observation satellites is increasing at an exponential rate and is providing unprecedented synoptic views of our planet. Because these satellites often use different methodologies, using data for trend analysis and environmental monitoring can be difficult, making it essential to establish globally recognised guidelines for Calibration and Validation processes.