Call for speed limit on German autobahns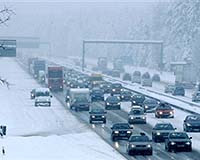 One of the few practical ways of slowing down the German superhighways.
by Staff Writers

Berlin (AFP) Nov 10, 2007

Germany's environment agency on Saturday called for a speed limit of 120 kilometres (75 miles) per hour on all the country's autobahns, many of which allow drivers to go as fast as they like.

"A speed limit would bring considerable progress in terms of environmental protection and road safety," the agency's president Andreas Troge said in an interview with the Berliner Zeitung daily newspaper.

A limit of 120 kph would reduce Germany's carbon dioxide output by up to three tons per year or 10 percent of the motorway network's total emissions, Troge said.
Related Links
Car Technology at SpaceMart.com

RAND Paper Finds Diesel, Hybrid Vehicles Can Provide More Societal Benefits Than Gas-Powered Autos


Washington DC (SPX) Nov 09, 2007

Cars and light trucks powered by advanced diesel technology or hybrid technology can provide larger societal benefits than traditional gasoline-powered automobiles, according to a RAND Corporation working paper presented today. The research by RAND, a non-profit research organization, also found that light trucks and cars continuously fueled by a mixture of 85 percent ethanol and 15 percent gasoline - known as E85 - compare unfavorably with the other two alternatives.