Brazil, Germany To Develop Night-Vision Radar Satellite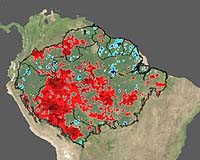 File image.
by Staff Writers

Rio De Janeiro, Brazil (XNA) Mar 18, 2008

Brazil and Germany have signed an agreement to develop a night-vision radar satellite to observe the Amazon region, the National Space Research Institute (INPE) said Sunday. The INPE plans to build the Multiple Application Synthetic Aperture Radar with the help of the German Space Center over 18 months, in the second satellite project undertaken by the two nations.

The 500-kg satellite, which will cost 100 million euros (157 million U.S. dollars), is capable of taking photos at night or in difficult weather conditions, such as heavy fog or smoke. Brazil's Amazon region is often cloudy and also suffers frequent forest fires.

According to the terms of the agreement signed last Monday, the satellite will be launched by 2013, the INPE said.

Researchers involved in the program will share their technical innovations during the mission, it added.

Source: Xinhua News Agency
Related Links
Earth Observation News - Suppiliers, Technology and Application

NASA Goddard Delivers Aquarius Radiometer To JPL


Greenbelt MD (SPX) Mar 18, 2008

On Jan. 10, 2008, after a four-year development effort, the Goddard Space Flight Center in Greenbelt, Md., delivered the Aquarius Radiometer to the Jet Propulsion Laboratory (JPL) in Pasadena, Calif., for integration with the Aquarius instrument. The radiometer, built by an in-house team of scientists, engineers and technicians at Goddard, is part of the Aquarius mission.