Boeing Launches WorldView-1 Earth-Imaging Satellite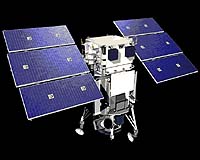 File image of DigitalGlobe WorldView-1 satellite.
by Staff Writers

St. Louis MO (SPX) Sep 18, 2007

Boeing, through its commercial launch business, successfully launched the WorldView-1 satellite for DigitalGlobe aboard a Delta II rocket. Lift-off occurred at 11:35 a.m. Pacific time from Pad SLC-2W at Vandenberg Air Force Base, Calif. The Delta II rocket deployed the spacecraft approximately 73 minutes after lift-off. The WorldView-1 satellite will provide commercial, high-resolution images of Earth, and is capable of collecting, storing and down-linking more frequently updated imagery than any other commercial imaging satellite in orbit.

"Today's launch of WorldView-1 marks our second successful commercial launch for Boeing Launch Services in 2007 and puts us on track for a very successful year with two of our three scheduled launches completed," said Ken Heinly, vice president of Boeing Launch Services.

The launch also marks the 75th consecutive successful launch of a Delta II rocket. Boeing designed the "workhorse" launch vehicle and operated it until Dec. 1, 2006, when the United Launch Alliance joint venture between Boeing and Lockheed Martin was formed to support the U.S. government. Boeing Launch Services purchased the launch vehicle and associated support services from United Launch Alliance.
Related Links
Earth Observation News - Suppiliers, Technology and Application

New Faraway Sensors Warn Of Emerging Hurricane's Strength


Pasadena CA (SPX) Sep 10, 2007

Days before a growing hurricane possibly batters a local coastline, meteorologists rush to predict just how strong its winds and rains may grow knowing that lives and an area's economy may depend on their results. A new study supported by NASA and the U.S. Office of Naval Research takes forecasters one step further to improving their ability to predict just how powerful an oncoming storm may become by using highly-sensitive sensors located thousands of miles from the storm to detect lightning outbreaks within a hurricane's most dangerous area.