Analysis: EU to listen in on Skype calls?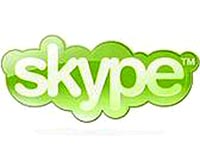 disclaimer: image is for illustration purposes only
by Stefan Nicola

Berlin Feb 26, 2009

European prosecutors are eager to abolish the legal and technical hurdles to wiretapping Internet telephone calls to better fight organized crime. As early as next week, the European Union's judicial-cooperation agency Eurojust will receive an official request by Italian judicial authorities, who want to listen in on computer-to-computer phone calls between criminals who are increasingly turning to Voice over Internet Protocol programs such as Skype. "The possibility of intercepting Internet telephony will be an essential tool in the fight against international organized crime within Europe and beyond," Carmen Manfredda, an Italian Eurojust official, said in a statement. "Our aim is not to stop users from taking advantage of Internet telephony but to prevent criminals from using VoIP systems to plan and organize their unlawful actions." When requested, The Hague, Netherlands-based Eurojust would facilitate meetings between judicial representatives from the 27 EU member states. These representatives would then meet to identify ways for prosecutors to deal with VoIP calls. They would have to take into account the various data-protection rules and civil rights, not to mention the 30 different legal systems in Europe. Such proceedings can take "between a few months and several years," depending on the complexity of the issue, Eurojust spokesman Joannes Thuy told United Press International in a telephone interview Thursday. He underlined that any wiretapping would not target regular users and would have to be carried out "only as part of a criminal investigation." Authorities claim more and more criminals use Skype because they want to avoid being wiretapped. While prosecutors and intelligence agencies are easily able to listen in on landline phone calls and now even on cell phone conversations, Skype remains secure because of its complex encryption system. This increasingly frustrates prosecutors in Italy, where organized crime is abundant. In an earlier news release, Eurojust said Italian prosecutors had recently overheard a suspected drug dealer telling his accomplice to use Skype instead of his regular telephone to learn more details about a major cocaine delivery. Programs like Skype are a "huge problem in the fight against organized crime," Thuy told UPI. A Swedish-Danish co-production, Skype is one of the world's most successful communication tools. Created in 2003 by Niklas Zennstroem and Janus Friis, it was sold to eBay in 2005 and today has more than 405 million registered users. These users can chat, make regular voice or video calls to other Skype users for free; for a fee, they can also send SMS messages and call landline or cell phones. Skype told the Web site ZDNet UK it "remains interested in working with Eurojust" on the judicial possibilities of listening in on Skype calls. However, it may have to share with authorities its encryption system to enable effective investigations. Officials in Germany have allegedly tried -- and failed -- to listen in on Skype calls, and there are unconfirmed reports claiming the National Security Agency is willing to reward the hacker who cracks Skype. Apparently, the NSA has identified Skype as the main communication tool used by terrorists. No wonder U.S. security experts are eager to cooperate more closely with European authorities to improve investigations into the globalized crime and terrorism scene. Washington in late 2006 dispatched a permanent liaisons officer to The Hague. Expect Mary Lee Warren, a senior U.S. prosecutor and judicial expert, to closely monitor what happens across the Atlantic when it comes to wiretapping VoIP calls.
Related Links
Satellite-based Internet technologies

Google introduces ads to Google News


Washington (AFP) Feb 26, 2009

Google has introduced ads to the results of search queries on Google News in a move aimed at turning the news aggregation site into a money-making venture that may raise the hackles of newspapers and other media outlets.