Singapore Airlines Selects Rockwell Collins Satellite Communications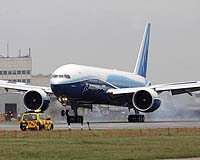 A Boeing 777 aircraft.
by Staff Writers

Cedar Rapids IO (SPX) May 04, 2007

Rockwell Collins has been selected by Singapore Airlines to provide its SAT-2100 satellite communication system with a single HST-2110 high speed data transceiver for 58 Boeing 777 aircraft. Under the terms of the agreement, Rockwell Collins will replace Singapore Airlines' existing SATCOM system with its latest high speed data offering.

In addition to the retrofit program, Singapore Airlines is using the same system on forward fit Boeing 777. One of the primary uses of the SAT-2100 is to facilitate high speed data services to Singapore Airlines' newly installed Electronic Flight Bag System.

"This agreement strengthens our growing relationship with Singapore Airlines, a technology leader in the airline industry," said Jeff Standerski, vice president and general manager of Air Transport Systems for Rockwell Collins. "The SAT-2100 has achieved broad market adoption since being introduced just two years ago and will play an important role in providing Singapore Airlines with advanced real-time information and connectivity solutions."
Related Links
Rockwell Collins
Satellite-based Internet technologies
Satellite-based Internet technologies

Couch Potatoes On Track For Virtual World


Cannes, France (AFP) April 16, 2007

TV addicts looked set to make the leap from couch to computer or cellphone, as TV, Internet, mobile phone, video game and advertising execs gathered Monday to mull how to propel their converging worlds into one future.