General Dynamics Awarded Contract For NASA's Landsat Data Continuity Mission Study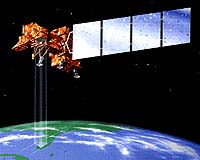 Landsat satellite.

China to launch 3 satellites in 2008 for environment, disaster monitoring
Beijing, May 16 (Xinhua) China plans to launch three small satellites for environment and disaster monitoring and forecastingnext year, said Zhang Qingwei, general manager of the China Aerospace Science and Technology Corp., on Wednesday. "In two or three years the constellation will comprise seven satellites in order to better monitor, predict and assess ecological damage, pollution and disaster in all weather and over a large area", said Zhang, who is also chairman of the Chinese Society of Astronautics. "This will help China improve its capabilities in reducing disasters and protecting the environment", he added. "China is shifting (the purpose of) its satellite research and development work from trial applications to mission services", said Zhang. In the 2006-2010 period, China will establish a spatial information system composed of 60 to 70 satellites to facilitate the country's economic and social development. Nearly 100 satellites will be developed in the five-year period,including communications and broadcasting satellites, earth resources satellites, recoverable satellites, meteorological satellites and navigation satellites.
by Staff Writers

Fairfax VA (SPX) May 17, 2007

General Dynamics Advanced Information Systems, a business unit of General Dynamics, was awarded a Landsat Data Continuity Mission (LDCM) Spacecraft Accommodation study contract by the NASA Goddard Space Flight Center. The contract, awarded through the Rapid Spacecraft Development Office (RSDO), is valued at $600,000 with a four-month period of performance.

For this study, General Dynamics will identify a design for the spacecraft and provide an assessment of various mission topics to meet performance requirements. These include developing a spacecraft that will accommodate the Landsat instruments and identifying methods of achieving mission objectives. Following completion of this study, NASA will issue a Request for Offer (RFO) in order to choose a contractor to build the LDCM Observatory.

For more than 30 years, Landsat satellites have collected data of the Earth's continental surfaces to support global change research and applications. LDCM is the future of Landsat satellites. It will continue to obtain valuable data and imagery to be used in agriculture, education, business, science and government.

"General Dynamics is applying its flexible and efficient approach to provide a design to meet the schedule and cost requirements of the Landsat Data Continuity Mission," said David Shingledecker, vice president and general manager of integrated space systems for General Dynamics. "We appreciate the opportunity that NASA has given to us to participate in this study and look forward to helping NASA continue the Landsat heritage of success."
Related Links
General Dynamics Advanced Information Systems
Earth Observation News - Suppiliers, Technology and Application

ESA Presents The Sharpest Ever Satellite Map Of Earth


Paris, France (ESA) May 14, 2007

The most detailed portraits ever of the Earth's land surface have been created with ESA's Envisat environmental satellite. The portraits are the first products produced as part of the ESA-initiated GlobCover project and are available online. Bimonthly global composites for May to June 2005 and March to April 2006 can be accessed through a newly developed map server tool on ESA's GlobCover website. On 19 June, additional bimonthly global composites will be made available as well as the first part of a global land cover map over Eurasia.