First LISA Pathfinder Flight Unit Ready For Delivery On 8 February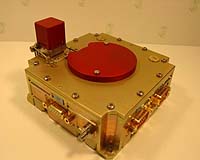 LISA Pathfinder Flight Model DSS including removable alignment cube.
by Staff Writers

Paris, France (ESA) Feb 02, 2007

The first flight units for the LISA Pathfinder program are imminently nearing completion. All three Digital Sun Sensor's (DSS) have now completed manufacture and are currently undergoing final testing at supplier Galileo Avionica. A significant target has been achieved with the first flight unit having successfully completed all environmental testing. Its final testing is due to complete on 2 February with the unit scheduled to be ready for delivery on 8 February.

Testing of the second and third flight units is also well underway with all units ready for delivery to Astrium UK by 2 March.

Delivery of these units in around one month signals a major milestone for the LISA Pathfinder program and one of many flight unit deliveries due in the coming months.
Related Links
Mission Home
All about the technology of space and more
Space Technology News - Applications and Research

LISA Pathfinder Spacecraft Test Phase About To Start


Ottobrun, Germany (SPX) Jan 18, 2007

The first test article of the LISA Pathfinder spacecraft, the Development Model of the On Board Computer has arrived at the prime contractor facilities of Astrium Ltd, Stevenage, UK in the last week of December 2006. This model has been manufactured by Astrium GmbH in Ottobrun, Germany and is capable to support all the test activities at Real-Time test bench level.